Darwinia Demo Guide Version 1
Welcome to the Ultimate Darwinia Guide. This guide will contain everything a new player needs to know about the game. It is currently based on the Demo of Darwinia.

Once the game loads, you'll be straight into the demo level.



W - Forwards
S - Backwards
A - Left
D - Right
Q - Camera Down
E - Camera Up
Mouse - Turn
Scroll Wheel - Up and Down
Z/Middle Mouse button - Zoom
Space - Deselect Unit
Tab - Chatlog

Note: These controls can be changed in the games option screen.


Task Manager - Alt (hold)
Move Unit - Left Mouse
Unit Primary action - Right Mouse
Unit Secondary Action - hold Right mouse, click left mouse



The Natives of Darwinia. Little green guys that roam around freely. They are used to operate Refineries and Mines, and, once upgraded, can be used to combat some enemies with lasers, and then further upgraded to use Grenades. You should be cautious however - Darwinians aren't the smartest of life forms when it comes to using explosives. They cannot be directly controlled.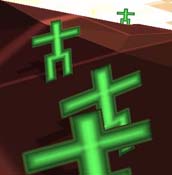 A Darwinian that has been promoted. They have one purpose, which is to tell other Darwinians where to go.
Primary Action - Command. Clicking a point on the ground will set a Path, which all Darwinians near the Officer will follow.
Secondary Action - None.
Other - Right clicking the Officer while it is selected will change its current mode, which is determined by the current officer research level:
Follow Mode: All Darwinians will follow the officer. This has quite a long range, so be careful your Darwinians don't kill themselves making their way to the officer.
Absorb: The Officer will absorb the souls of Nearby Darwinians, creating a shield around himself. Each Darwinian absorbed gives the officer an extra hit point. Any enemy take touches an officer will a shield will take damage (Virii will be killed), and one of the souls will be dropped for collection by an engineer.




A group of 4 armed troops (upgradeable to a max of 6), your primary offensive unit against the Virii. They are equipped with lasers and grenades by default, though grenades can be replaced with a Weapon Upgrade Gesture.
Primary Action - Fire Laser
Secondary Action - Fire Current Secondary Weapon (Default Grenades)




A flying unit used for non-offensive tasks. An engineer will act automatically when moved near a task it can do. They can capture Control Towers, and will collect Spirits from the nearby area and take them to an Incubator if you have one.
Primary Action - None
Secondary Action - None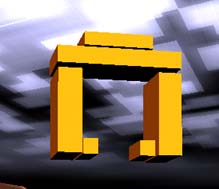 Mission Objectives. These need to be turned on.




Used to take control of the connected structure. Allows you to place units nearby once you control it. Move an engineer nearby to capture.




Once you control a Radar Dish, you can aim it by clicking on it. Find another Radar Dish on another island and click on it to connect to it. You can then teleport units from the first radar to the other (but not back the other way) by moving them to the base of the Radar.




Once captured, your engineers can drop Spirits that they have captured from fallen units (both yours and the enemies). For every Spirit dropped into the Incubator, a new Darwinian will be created.




Used to power Carts around the Islands mining system, and refine mined polygons into primitives before shipping them through the Trunk Gate.




Used to mine polygons from the ground, and send them to the Refinery via the Cart system.





When you start the game, you have a single control tower under your control. There is an Incubator nearby, and a swarm of Virii. To start with, you'll need to create a Squad to clear out the virus.


At the start of the game, your Task Manager is limited to a max of 4 Tasks at the same time. Luckily, not every program uses a task up permanently. Squads and Engineers will use a Task space up while they are still active, and Officers will use a slot when the Gesture is made, but the Task will be freed up once you promote a Darwinian. Weapon Upgrades uses no task slots.
You can close any active task by selecting it and then pressing Ctrl+C. This will essentially 'kill' the program.



Creating units in Darwinia is done using the Gesture System. The Gesture Window is the Default window that appears when you first open the Task Manager. To Draw a Gesture, hold the Alt key to open the Task Manager, hold your left mouse button, and move the cursor around the screen. Once you have finished drawing the gesture, release the mouse button, and if you have done it correctly, the Run Program message will be displayed.
Upon releasing the Alt key, you can place your unit.
If you have done the Squad or Engineer gesture, will see a red ring around your Control Tower, which marks where you can place your new unit, and the 'God Ray' shining down from the sky onto your control tower. Simply clicking inside this red circle will place your new unit.
If you created an Officer, simply click on any normal Darwinian to convert him to an officer. To use a weapon upgrade, you must first have a Squad in action and it must be selected before doing the gesture. The squad's weapon will be upgraded once the gesture is complete.



There are 2 ways of activating the various structures across the level, depending on what the structure is.
Radar Dishes, Incubators and Trunk Ports will all have a Control Tower near by. To capture the building, simply move one of your Engineers to the Control Tower, and they will begin taking it over. You will be able to tell that you have control of the structures because the flashing lights will turn from Red to Yellow (or, in the case of a Trunk Port, it will simply turn on). Once this happens, you have control of the building and may use it.

Refineries and Mines have a group of small alcoves around the sides. In order to active the buildings, you must move a Darwinian into each of these alcoves. The more of the Alcoves that you place a Darwinian in, the faster the building will operate.


There are 4 main types of weapon available to you.


The standard laser, available to Squads, and, once upgraded, Darwinians. Does low damage, but is enough to destroy Virii in a single shot.
Pros - No risk of damaging your own units. Fast firing.
Cons - Ineffective against larger enemies.


A Squadies default secondary weapon. The grenade will bounce for around 3 seconds before exploding.
Pros - Decent damage over an area.
Cons - Difficult to hit faster enemies.


Fires a rocket in a straight line, which explodes on impact, dealing high damage to all near the explosion.
Pros - Accurate and powerful.
Cons - One slip up can cost you your whole Squad.


Fires a beacon which calls in Invaders to drop bombs on the target area. Covers a large area with high damage.
Pros - Huge area effect and high damage
Cons - Enemies can move out of the area effect before the Invaders arrive. Very dangerous to your own units nearby.


Every time a Darwinia or an Enemy unit dies, they leave behind spirits. These spirits are small glowing dots, which can be collected by engineers, and taken to Incubators in order to make more Darwinians. You need Darwinians to power the mining system on the Island, and once upgraded with a laser, can be a powerful fighting force.


Research in Darwinia allows you to improve the abilities of your various units and weapons. You can access the Research screen by moving the mouse to the bottom of the Task Manager. To start the research, simply click on the desired field.
In order to gain more research points, you need to capture buildings. Every building you capture will slowly increase your research. The default research is Darwinians, which is close to completion when the level starts, but you can change it to whatever you want.
Every time you gain a new Version in a field of research, something about that unit/weapon is upgraded.


v2.0 - Default
v3.0 - Darwinians gain lasers
v4.0 - Darwinians gain Grenades


v2.0 - Default
v3.0 - Gains 'Follow' Mode
v4.0 - Gains 'Absorb' Mode


v2.0 - Default
v3.0 - Number of Squadies increases to 5
v4.0 - Number of Squadies increases to 6


v2.0 - Default
v3.0 - Range increases
v4.0 - Range increases


v2.0 - Default
v3.0 - Range increases
v4.0 - Range increases


v2.0 - Default
v3.0 - Range increases
v4.0 - Range increases


v2.0 - Default
v3.0 - Number of Invaders increases to 3
v4.0 - Number of Invaders increases to 4


v3.0 - Default
v4.0 - Number of available tasks increases to 5


v2.0 - Default
v3.0 - Spirit Capacity increased to 25
v4.0 - Spirit Capacity increased to 30


There are 4 types of enemy in the demo.


The standard enemy unit. They have no ranged weapons, and can be killed with a single laser shot. However, they appear in large swarms, and flock towards your units in groups, damaging anything they come into contact with. They can decimate an unguarded group of Darwinians in seconds. Explosives such as the Air strike will make short work of them, as will an upgraded group of Darwinians.




A large worm-like monster that roams over a large area. Its quick moving, though its size makes it easier to hit. The Centipede is made up of sections, each of which need to be destroyed. If a middle section is destroyed, the 2 parts either side will split off to become separate enemies. They can kill Squads and huge groups of Darwinians almost instantly by crushing them, though they can be warded off with lasers. Once damaged, they can also eat souls to regenerate destroyed segments. Use rockets or a large group of Upgraded Darwinians to destroy it.




Spiders are very dangerous enemies, able to jump long distances to crush Squads and Darwinians alike. What's more, they are immune to lasers and must be killed with explosives, and also have a large amount of health, which makes them very dangerous if they manage to get in close, especially if they land in a group of your Darwinians - not only will the Spider crush a large number of them, the explosives you need to kill it will finish off even more. Use explosives before the Spider starts to move and finish them off quickly.




Jellyfish are giant, flying monsters. Although the Jellyfish themselves are harmless, they drop spores to the ground. Nearby Virii can carry souls into these spores, which will cause them to hatch into even more virii. A swarm of Virii can grow very rapidly like this. To destroy them, wait until they come down low to drop spores, then hit them with Rockets or Grenades. This might take a couple of tries, as they fly back up when attacked.




Here are some random bits and pieces that are more general points of interest than facts required to play the game.


The trees in Darwinia, as well as being nice to look at, are also burnable. Use an explosive weapon on them, and they will catch fire, and slowly shrink until the fire goes out. If they are close to other trees, the nearby trees will catch fire too. Once the fire has gone out, the trees will start to grow again.


If a Darwinian is left near the soul of a fallen unit, it will place the soul into a small box-kite type object, which will then float off to heaven. By doing this, the Darwinians believe that a soul will be guided safely to heaven.


When any of the larger units (Squads, Spiders etc) are damaged, they begin to become unstable and Phase Out. Its a very interesting effect, although it doesn't effect how the unit performs.